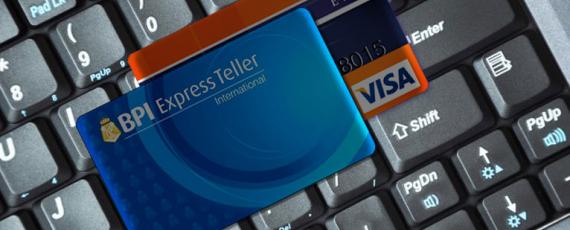 What will be discussed
 
How do I get a good credit score?
What's in it for me?
In this day and age of online and mobile banking, it is surprising to know that more than half of Filipinos are unbanked. Although Filipinos are known for being resourceful, thrifty and very wise bargain-shoppers, the bigger picture and smarter ways of having savings seem to escape any member of the common Filipino household. Interestingly enough, the absence of a bank account does not always mean lack of funds. Many simply attribute it to low interest rates whose gains are hardly felt during the tenure of their savings even in the most refutable bank.
Although a bank account does look more like keeping your money in a safe place, behind multiple security doors and vaults. But the truth is, having a bank account helps build your financial credibility.
Convenience in bill payments, a long-term plan on saving for the future, faster loan approvals due to overall credit performance is easily shown when you have a bank account to show the history of your credit behavior. That means how often you deposit, how often you withdraw, how much the current balance is and for how long you have the account active.
Convenience is electronic
Although vendors that provide payment centers like Bayad Center in SM malls, pawnshops and convenience stores, the fact that you can set up monthly bill payments over the internet or your smartphone is the next best thing to actually falling in line with all your paper bills and cash in your pocket.
Nominating merchants such as Meralco, PLDT, Maynilad and other utilities to your bank account in the form of a debit payment is only a one-time hassle, if only for the setting up of the debit payment. With a set date and amount, the money will be withdrawn from the bank account and will automatically transfer and be received by the merchant. You saved time in going to the payment center and you also saved your energy as opposed to bracing the ever-getting-worse traffic situations in the metro.
Safety Measures
Further advantage to having a bank account is that cashless payments offer further security. When making payments with a debit card which is often in the form of an ATM card, a PIN is normally required to complete the transaction and let the money go through.
Banks are always on the lookout for advancing their technology in terms of security measures. Just recently, Citi Philippines has launched a voice-recognition feature for added identity security with phone banking.
Cashless payments
Owning a bank account allows you to receive money in the form of a cheque. Depending on your type of bank account, some personal accounts actually offer you the option to be able to issue cheque for your disposal. This is clearly an added convenience on your part, whether you are an employed individual, a self-starting entrepreneur.
Financial Literacy
It doesn't help to learn something new. Having a bank account offers you some technical know-how in having some financial literacy in terms of how the banking system works and how they related to the ever-changing times. Things such as interest rates, deposit and withdrawals, promotions and discounts as per the merchant's offering is a good way to make the most of your bank account.
The Banko Sentral ng Pilipinas (BSP) continues to push campaigns to further educate the Filipino on financial literacy. The drive is to hopefully make people aware that having a bank account is not only for the rich and educated. With added information and with the cooperation of many bank representatives, banking is very well within anybody's capacity.
Earning interests
Depending on the bank, interest accrued, even if seemingly insignificant, is still so much better than keeping your money at home in a piggy bank where it stays without earning anything extra.
Is my money really safe?
You can set your mind at ease when you keep your money in the bank because if anything wrong happens and your bank is a member of the Philippine Deposit Insurance Corporation (PDIC), your savings account is automatically protected by law. This means your money is insured up to Php 500,000 maximum insured amount.
In the event that the bank is unable to give you back the full amount of your savings, it is PDIC who will return your money to you.
What are the basics?
There are two basic types of bank accounts, the fixed deposit and the personal or savings account. With fixed deposit accounts, the interest rates are generally higher. However, you do not have the freedom to withdraw your money anytime because it is bound for the time that the interest is earning. You have to wait for the account to mature at a set time. The length of maturity is usually at 3, 6, or 12 months. If you withdraw the money before its maturity, whatever interest earned could simply be forfeited.
On the other hand, savings accounts have lower interest rates. Your funds can be withdrawn any time you need it. There are no penalties for making a withdrawal if you are withdrawing from your own bank. However, you could be charged some fees if you're unable to keep the maintaining balance for at least 30 days.
How do I open a bank account?
Almost all banks have the same requirements:
One or two government-issued IDs with photo and signature shown.
Some more ID photos.
Initial deposit to start the account
Utility bill showing your billing or home address.
It is advisable that you furnish a receiving a copy with the bank and have them signed the receiving copy of your application and keep them in a folder together with all documentation, deposit and withdrawal receipts, bank letters sent to you by the bank. This is part of financial literacy.
What bank should I choose?
Banks are up and about it offering the best possible interest rate, features and promos to attract depositors. However, you must bear in mind that in some pros are cons involved. For example, some banks may offer a minimal initial deposit at now maintaining balance. However, there could be some withdrawal fees for each time you draw money from your account. Some may have a slightly higher interest rate, but they may have a big maintaining balance before that interest rate starts taking effect.
Here's a quick overview of the prevailing rates of personal savings account:
| | | | | |
| --- | --- | --- | --- | --- |
| Type of Personal Bank Account | Initial Deposit | Maintaining Balance | Minimum Balance to earn interest | Interest Rate per annum |
| BPI Jumpstart Saver | Php 100 | Php 1,000 | Php 2,000 | 0.25% |
| BPI Easy Saver | Php 200 | Not Applicable | Php 1,000 | 0.25% |
| BPI Express Teller ATM | Php 500 | 3,000 | Php 5,000 | 0.25% |
| BDO ATM | Php 2,000 | Php 2,000 | Php 5,000 | 0.25% |
| BDO Passbook Savings | Php 5,000 | Php 10,000 | Php 10,000 | 0.25% |
| China Bank Easi-Save ATM | Php 500 | 500 | Php 1,000 | 0.75% |
| China Bank ATM Savings | Php 2,000 | Php 2,000 | Php 5,000 | 0.25% |
| Metrobank ATM Savings | Php 2,000 | Php 2,000 | Php 10,000 | 0.25% |
| Security Bank | Php 5,000 | Php 5,000 | Php 100,000 | 0.10% |
What is a credit score?
This is where financial literacy will come into play. Since the money that you saved in the bank is documented, all your history and manner of maintaining your account is actually registered in a national database. This means the frequency of your deposits, withdrawals and the amount taken and deposited is recorded and is a clear display of how you are as a saver or spender. This record is commonly known as credit history.
Your credit history will come in handy when you are applying for a loan – be it a car loan, housing loan, salary loan or some type of emergency loan.
The consolidated credit history is commonly known as a Credit Report, which is registered to external databases such as the Bankers Association of the Philippines Credit Bureau, Credit Card Association of the Philippines (C4) Consolidated Cancelled Credit Cards and TransUnion. Banks are partnered with them to help gain information from depositors.
Your credit report contains your personal information, credit history, educational background, types of credits used, promptness or lateness of paying bills (if merchant is enrolled to automatic payments from your savings account), possible history of bankruptcy claims, court judgements, subpoena (if any) etc. It also shows if a certain company had inquired about your credit history.
These reports are necessary for banks to determine a person's credit-worthiness, in case he or she is looking at applying for a loan. These records also help protect a financial institution from potential security risks such as money launderers or any other illegal activities or entities that utilize the financial system.
The act of recording one's credit history is usually advised under the terms and conditions when you open a bank account. Be sure to communicate with the bank representative handling your bank account application for further information.
Look on the bright side
Provided that you are able to keep your maintaining balance to where it should be and if you keep your credit card paid off before it is due, then all of these contribute to a more positive credit performance. And with a good credit performance, you are sure to have a very good credit score.
Needless to say, a good credit score gets one foot in the door for you when you are applying for loans as you have full evidence that you are financially literate enough to handle saving and spending power.
So, if you're looking at a faster approval for your loan application, having your credit history to show the debtor would definitely help define your credit-worthiness.
How do I get a good credit score?
It may sound very elementary, because it probably is. The only thing that's keeping you from your savings is the attitude towards a good mental discipline on how you manage your spending power.
For example, having a credit or debit card assures you of your ability to buy something. The only difference between the two is that with debit or ATM cards, you are spending money that you already have. This is a stark contrast with credit cards where you are enticed to spend money that you have yet to earn, in the appearance of a promo, discounts or rebates if you should use a particular credit card. However, before you start swiping away, keep in mind that unless you are confident that you are able to pay at least the monthly interest on your credit card, a purchased bought on credit is still money that you have yet to earn. It will only become a 'good credit' if it demonstrates your timeliness in making payments towards your credit card bill.
In the case of debit or ATM cards or passbook accounts, the ability to keep you balance to its maintaining amount and the frequency of deposits versus the frequency of withdrawals and the amounts withdrawn and deposited against the total balance all come into consideration.
It is not clear just exactly how the credit bureau counts these frequencies. However, common sense would give you an idea that if there are more withdrawals than deposits, or when the account is always falling behind the maintaining balance, then chances are this will give a not-so favorable credit performance. Cancelled credit cards that are not paid off also have a huge negative impact on one's credit rating. Make sure that your credits, loans and missed payments do not accumulate because they also make your overall credit performance.
Be on top of your credit report. Know that it as the owner of your bank account, you have the right to be informed of your prevailing credit score. In case you find the report inaccurate, you are welcome to raise the issue with the corresponding credit report provider and they should be able to do an overall review of your credit performance to the time you are questioning.
With a few self-discipline and a closer inspection of your saving and spending habits, you are surely on your way to becoming financially literate. Pretty soon, maintaining your credit score should be a walk on the park, and could be a good source of inspiration when you consider getting the home or car of your dreams.

source: www.bankbazaar.ph/ connectability.ca/