Submitted by

LISA of Myfinan...

on Wed, 02/19/2014 - 13:17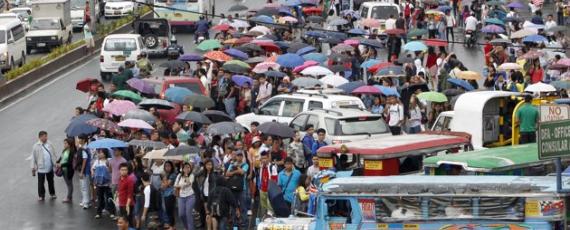 MANILA, Philippines - The Department of Education (DepEd) supports the suggestion of the Metropolitan Manila Development Agency (MMDA) to implement a four-day school week schedule to cope with the heavy traffic expected from the construction of the six-lane Metro Manila Skyway System and other road infrastructures.
"Definitely, adjustments must be made to ease the school calendar problem because the construction of 15 major road networks will take more than two years to finish and the kids will surely suffer if they spend so much time on the streets waiting for transportation. We have already discussed with school superintendents and principals regarding MMDA's traffic rerouting which has to be well laid out first," DepEd Assistant Secretary Tonesito Umali said.
The Skyway project, due to start on Monday night, will cover the 14.8-kilometer route from Alabang to Balintawak. Umali said 2 million students will be affected.
"The question now is which mode or alternative would be approved to be used. Will 20 Saturday makeup classes be used to complete the 200- school days in a year? Or are we going to give alternative module or assignments to students? Are we going to extend classes by one or two hours especially for those in a two-shift schedule? Identification of the scheme to be used is a priority since it could be put to work next year or even this coming June should the traffic problem worsens," he said.
Umali said a thorough study of the proposal must be made as not all schools are going to be affected by the project.
"Some are located a little far from national roads and highways so they may not want to be disturbed. Many of them are privately maintained but I am sure, once DepEd issues the order, they will respond," he said.
see also : List of Affected areas
DepEd open to proposal
The DepEd, for its part, is open to the MMDA's proposal for a four-day school week in all elementary and high schools.
The DepEd is set to create a task force to study the recommendation, officials said yesterday.
"We have yet to receive a formal proposal from the MMDA. As with all suggestions, this will first undergo study to determine its effect on education," said Luistro.
He said he would meet with principals and superintendents to identify specific schools that would be affected.
"In formulating guidelines for this, we need to take into consideration the actual schools to be affected by the construction projects as well as the adjustments in the schedule of classes" he said.
Public schools have a 200-day school calendar, 180 of which need to be spent in the classroom, Luistro said.
"It must also be noted that the school year is about to end, so any changes in class schedule for the affected areas will be implemented next school year," he said.
"If implemented, we need to ensure that the quality of learning is not compromised," he added.
But the Federation of Associations of Private Schools and Administrators (FAPSA) does not agree with the MMDA's recommendation.
FAPSA president Eleazardo Kasilag said car pooling or introducing government transport buses is the best solution to lessen the number of cars on the road.
"That's ridiculous. We need classes and pay what the typhoons take away," he said.