Submitted by

LISA of Myfinan...

on Fri, 02/28/2014 - 09:05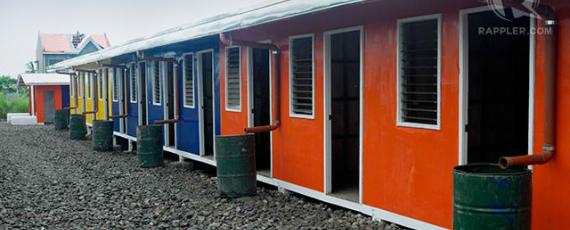 TACLOBAN CITY: The bunkhouses built for families left homeless by Typhoon Yolanda are so cramped they have been likened to pigeon holes.
"Yung mga bunkhouses, masikip at maliit talaga, parang bahay ng kalapati (The bunkhouses are too small they look like pigeon holes," Cesar Vellesco told The Times.
Vellesco and his 62-year-old wife, Nenita, are among the Yolanda survivors who decided to pass up their chance to live in the bunkhouses built in the city and rebuild their house without help from the government.
He said the bunkhouses, which are worth P838,000 each, are far from ideal for his family.
A room in a bunkhouse measures 8.64 square meters, which the government says is adequate for small families.
Families with six or more members can combine two rooms for more space.
Vellesco, 68, who is qualified to move his family to a bunkhouse, is unimpressed. "I'm a carpenter, so I know. Only a couple and one child can fit into a room. If you add a househelp, it's going to be pretty crowded," he said.
"If another typhoon with 150 or 180 kilometer an hour winds comes along, it's going to blow the bunkhouses down. Houses made of cement or hollow blocks did not survive Yolanda. House made of wood won't stand a chance," Velleso said.
Public Works Secretary Rogelio Singson said the design of each bunkhouse would be modified. From the original 24 rooms — one for each family — measuring 8.64 square meters, a bunkhouse will have 12 rooms each measuring 17.28 square meters.
Four toilets and showers, and a common cooking area will also be installed in each bunkhouse.
Palace deputy spokesman Abigail Valte stressed that the bunkhouses are temporary housing.
"They are meant to be transitional homes for them while the permanent homes are being constructed," Valte told The Times.
"At this point, we do feel that these bunkhouses will serve to protect them better than the tents that some of them are still—I don't think you can call them housed in but the thing that protects them from the elements," she added
On Tuesday, Aquino crossed paths with Tacloban Mayor Alfred Romualdez, who said the President implied that they could soon to discuss his city's problems.
Despite their perceived differences over Romualdez's statement that politics has seeped into the government's rehabilitation efforts, the mayor said that he's always respected the President.
"I'm not out to fight or destroy anyone. I just want transparency because people have to learn and people really have to know what happened so that when disasters strike us again then we're better prepared," Romualdez told reporters.
He said, however, that the rehabilitation efforts could be better, faster.
"In terms of the speed of the rehabilitation, it could move faster but of course we have limited funds. So whatever we have, we try to maximize," he said.
Romualdez dismissed the government's claim that electricity had been restored in 99 percent of Yolanda-affected towns by Christmas Eve.
He said half of Tacloban is still without power