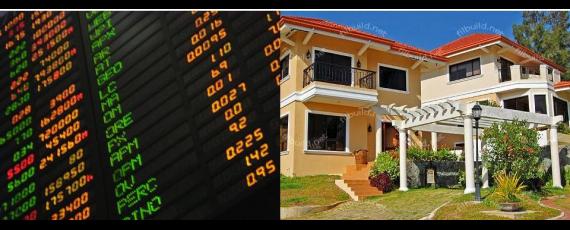 What will be discussed:
Housing Loan Options:
Land Bank of the Philippines Bahay Para sa Bagong Bayani Program
United Coconut Planters Bank (UCPB) Home Loan
Tips before buying Real Estate
Given the number of real estate, may it be condos or house and lots that OFWs purchase, we can say that Real estate is a favorite investment among Filipinos, probably because of the belief that they would never lose their hard-earned money if they purchase house and lot, farm lands, condominium units, and the like as the value of these properties increases so far. Another reason why it is the investment choice for many is the mushrooming of real estate companies that offer affordable rates and flexible financing schemes. Having a house that one can finally call their own is also the dream of many Filipinos.
 Although even if the Philippine Government gives our loans to help finance whatever investments we choose, this might not be enough and some would need additional loans from banks with much needed help from a financial broker.
However, just like all investment, there are also downsides to house or land purchases. For one, real estate investment would require large amounts of money and profits may not be enjoyed right away.
The answer to the predicament of those who wish to have their dream homes is by investing through the help of housing loans. One option is availing a loan from government agencies such as Social Security System (SSS) and the Home Development Mutual Fund (HDMF) or Pag-IBIG. One can also take a look at the loans that Philippine banks are offering for overseas Filipino workers (OFWs).
Check out the housing loan options for OFWs below:
 SSS Housing Loan
Who are qualified?
This is available for OFWs below 65 years old with a minimum of 1 year of 12 months of straight contributions and has not availed any SSS benefits before. There are two options to choose from, a socialized housing loan worth Php300,000 or a low-cost housing loan that ranges from Php500,000 to Php1,000,000.
What are the acceptable purposes SSS Housing Loan?
1.       Construction of a house on a lot owned by the applicant.
2.       Buying a lot in which a residence will be built
3.       Buying an existing residence in the form of a house and lot, a townhouse or a condominium unit.
How much is the interest rate and the long term?
The loan term is from 5 to 30 years while the interest rate that will depend on the loan amount can range from 9% to 14% per year. 
PAG-IBIG Overseas Program
Who are qualified?
The Pag-IBIG Overseas Program (POP) is a voluntary savings program which aims to give Filipino overseas contract workers ,immigrants and naturalized citizens the chance to avail of a housing loan of as much as P 2,000,000.00 and save for the future. Members can withdraw their accumulated savings after 5, 10, 15 or 20 years of contribution. Aside from the housing loan, members can also apply for a multi-purpose loan and dividends.
Land Bank of the Philippines Bahay Para sa Bagong Bayani Program
This program aims to improve the living condition of Overseas Filipinos through the provision of shelter or improvement and renovation on their future or existing abode at relaxed and flexible terms.
Eligible Borrower
1. Holding a live contract from employer;
2. Filipino citizens;
3. At least 21 years old and not more than 65 years old upon maturity of the loan;
4. Clear of adverse credit findings with other creditors
Eligible Loan Purposes
1.       Purchase of residential lot
2.       House and lot, and residential unit like condominium and townhouse;
3.       Construction
4.       Improvement or renovation of existing residential unit owned by the OF; and
5.       Refinancing or assumption of existing mortgage loan of the OF
Loan Amount
Loan amount shall be the lowest of the paying capacity of the OF or loan value of collateral with loan value of 80%; Construction, improvement or renovation of existing residential unit owned by the OF
Interest Rate
Prevailing LANDBANK interest rate on Housing Loan, either fixed for 5, 10, 15, 20 years subject to annual re-pricing.
Project Cost Financing
 LANDBANK – up to 80%
Borrower – OFW – minimum of 20%
Tenor: The loan shall have maximum tenors as follows:
Twenty (20) years, for OF with co-borrower; or
Fifteen (15) years, for OF without a co-borrower
Collateral
1.       Primarily, the object of financing or separate prime property, if warranted;
2.       Other collateral that may be accepted, in addition to the object of financing:
3.       Hold-out on deposit; and/or
4.       Agrarian Reform Bonds 
United Coconut Planters Bank (UCPB) Home Loan
Who is eligible to apply for a UCPB Home Loan?
Those who have been employed for the last 12 months with a minimum gross monthly income of P40,000.00, or you have been in business for the last 3 years 
Where can I use the UCPB Home Loan?
·         Purchase a residential lot, house and lot, condominium or townhouse
·         Construct a house on your already-owned lot
·         Renovate or expand your existing house
·         Refinance an existing mortgage from another bank
·         Multi-purpose loan (your home is your collateral)
How much can I borrow  and how long is the loan term?
The minimum loanable amount is P500,000.00 and the maximum loan term is 15 years.
How can I pay for my UCPB Home Loan?
1.       Enroll your accounts to UCPB Connect (for individuals) or UCPB CM. Biz (for corporations) to setup recurring monthly payments
2.       Issue post-dated checks
3.       Enroll your UCPB account for Automatic Debit Arrangement
How much amortization should I expect to pay?
Your payment structure will be determined by how much you are willing to pay as down payment, how long your loan term is, or how much you can set aside as  monthly payments. They can provide consultation services to design a payment package suited to individual needs. 
What are the requirements needed:
1.       Duly Accomplished Housing Loan Application Form
2.       Two (2) Government-issued Valid ID's
Additional documents for OFW:
1.       Certificate of Employment (COE) duly authenticated by Philippine Consulate Crew Contract & Exit Pass validated by POEA (for Seamen)
2.       Original Pay slips for the last 3 months
3.       Notarized or authenticated Special Power of Attorney (UCPB Format) 
How to apply for a Home Loan:
Thinking of getting a Home Loan from UCPB? Contact us
Tips before buying Real Estate:
·         Get a good agent
Your real estate agent will be your partner when it comes to your real estate investments. It also falls true with Financial Broker. It is very important that you get someone who is experienced, trustworthy, and reliable. OFWs are almost always out of the country which is why it is vital that you trust your agent fully. The best quality of our services is that we are online, so you can check up any updates with a click of a button.
·         Consider vacant lots
Some OFWs want to purchase a condo or a house for sale in the Philippines, not thinking that these are properties include space that they will not be able to use. Unless they choose to rent out the property, having an empty condo or house for most of the year will only lead to maintenance costs to keep up the condition of the house or condo. On the other hand, if you choose to purchase a vacant lot, you do not have to worry about such things. You can just choose to let the value of the lot appreciate then sell it off in the future or you can choose to have your house constructed only when you are ready to go back to the Philippines for good.
·         Consider other locations
Do not fixate on a single location when looking for a property you can invest in. Consider other areas where property prices are lower such as those in the provinces. This is particularly good for those looking for a property where they can retire to. Since prices are lower, you can afford to purchase bigger properties such as small farms or a decent-size rest house. You may also consider properties in areas that are slowly showing signs of commercial developments with the intention of turning your property into a commercial one as well.
Need for a Financial Broker
What is a Financial Broker?
A finance broker is a type of commercial broker that assists clients in evaluating their current financing needs and identifying the best way to meet those needs. This often involves investigating a wide range of lending opportunities and then assisting the customer in applying for and ultimately securing the best financing option available. A finance broker may specialize in a particular lending area such as mortgage loans or provide access to a wide range of different types of business finance options, not to mention that with thorough preparations and knowledge of the terms and conditions of a bank or financial institution, that having a Financial Broker significantly increases the probability for an application to be approved. In a nutshell: Better preparation + Presentation +connections = higher loan approval probability.
What we do
"Making it easier for you"
Given the time it takes to find the right bank or financial institutions to suit your borrowing needs, and the lengthy procedures not to mention bulk of paperwork one needs to provide to qualify, we made solutions that revolve around these areas.
Knowing the Financial Market in the Philippines, and considering the busy schedule a working class expat goes through, we make procedures and finding the right kind of loans and rates easier by finding the best solution to whatever financial needs one looks for.
Having expat and local partners in the Philippines broadens our perspectives in adjusting a needs-based services and becoming successful in giving out specific answers to specific questions.
Let us help you.
Is there anything we missed?