Submitted by

LISA of Myfinan...

on Tue, 03/04/2014 - 16:32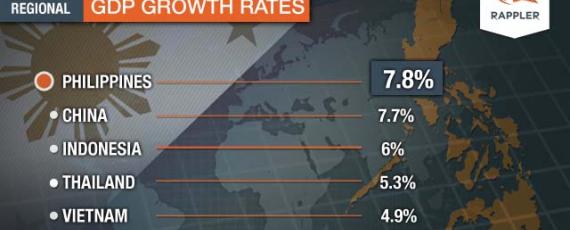 Philippines and Indonesia preferred by foreign investors says Chua Hak Bin, ASEAN economist at Bank of America Merrill Lynch.
According to Chua, Head of economics research for emerging Asia at Merrill Lynch Singapore, 5 years ago, if you invested money on Indonesia or Thailand, you would have tripled your money same as in the Philippines. As for China, you'll be lucky if you break even.
But today it is not the case, in 5 years time Thailand would no longer be attractive to investors, Chua says.
What does the Philippines and Indonesia has better than Thailand? Three things : Stable politics, lower levels of debt, and large labour forces.
Foreign investors are finding it hard to understand the political situation in Thailand, "We have seen growth collapse in the fourth quarter last year" he adds, and the drag for four months is still wondered to continue until the second half of the year.
Compared to the growth of Indonesia and the Philippines, stock markets have risen by about 7 percent, while the Stock Exchange of Thailand has been flat. Although there is also a possibility that Thailand will catch up in a span of 5 years but as of now it is still a big "MAYBE"
Here is a simple comparison :
Household debts against Gross Domestic Product
Thailand           80.1%                          
Indonesia         17.00%
Philippines       6.20%
The higher the Household debts are, the lower the consumption.
Domestic Credit against GDP
Thailand           103.7%
Indonesia         36.6%
Philippines       42.4%
In summary
Among ASEAN economies: According to household debts
Malaysia           86.1%
Thailand           80.1%
Singapore         77.1%
Lower percentages mean better household capacity.
With the foreign capital stopping investments in Thailand because of their unstable government, many are switching to invest in the Philippines and Indonesia.
"Our Government is not idle after all"