Submitted by

LISA of Myfinan...

on Mon, 02/10/2014 - 11:24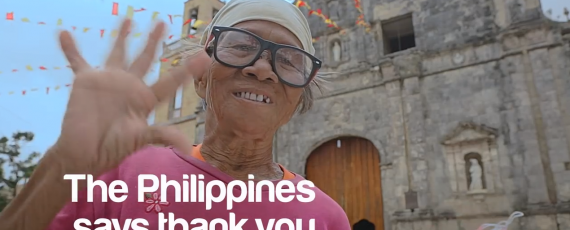 'Big thank you'


"The Philippines wants to say a big thank you to every one who has been helping us rebuild after Typhoon Haiyan... (The world) has been one with the Philippines in helping rebuild the nation - from sending relief goods, doing medical missions, all the way to pledging funds for the reconstruction of infrastructure," read a message accompanying the video posted on the ItsMoreFunInThePhilippines.com website.



February 8 marks three months after the typhoon devastated the Visayas and Southern Luzon, and left more than 6,200 dead.



"We are Filipinos. We are resilient, grateful, and fun-loving people. And that's why even as we are still recovering, we already want to show our thanks," the message read further.



Filipinos were also urged to use the templates, posted online, and write a "thank you" note to the world for the volunteers, donations, pledges, and everything in between, then post the image on the DOT Facebook page or tag @DOTphilippines on Twitter.