Submitted by

LISA of Myfinan...

on Fri, 12/09/2016 - 10:23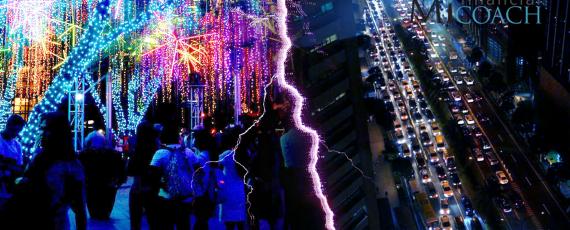 To many people, Christmas time is shopping time. 'Tis the season to be jolly…' as the song goes. Indeed, this is the time to get that much-awaited watch or the limited edition Nike sneakers that you've been ogling at on the internet. If you're a working class citizen, then this is the time for you to reward yourself.
Despite the many friendly financial articles that come out at this time of the year, people seem to find immense ways on how to give justice to spending too much on items that seem to equate the value of their hardwork. But what truly involved your typical Christmas shopping? What can be enjoyed and what can be dreaded?
The traffic congestion, what else?
Previous studies show that traffic in Manila typically increase 15%-20% as more and more people hit the streets for the mad holiday rush. We can't help it. Employees receive their mandatory 13th month pay around November, giving the middle-class worker that much-anticipated consumer power. We have also seen the rise of car manufacturers selling econo-cars at the cheapest rates possible. Even banks were virtually giving away car loan approvals like hotcakes. Add that to the number of old cars that hasn't been phased out and we have another 'carmaggedon' waiting to happen. Malls are also open from 11AM to 11PM, giving more shoppers time to splurge away.
OFW Woes
Traditionally, OFWs and their families look forward to the Christmas season not because of them are going home. For those who are not able to go home however, makes it a point to send money that is bigger than usual to help them celebrate the season, despite the distance.
Unfortunately, this year had seen a very slight increase in remittances, according to Trends and Remittances: A New Normal of Slow Growth, remittances was expected to rise at a slim 0.8% higher than last year, from $438.6 billion to $442 billion this year.
This is largely because of de-risking, a global phenomenon wherein banks are closing the accounts of money transfer operators due to anti-money laundering, counter-terrorism and cybercrime concerns.1
Oil prices have greatly decreased and in some cases, have caused a recession in the Middle East where many Filipinos are contracted.
The Good Side
A World Bank report said earlier in April that the BPO industry is more likely to help compensate for the losses out of the decrease in OFW remittances, a Bangko Sentral ng Pilipinas officer said. Having said this, the consumer power is in the hands of the call center agent who belongs to the stronger, multinational companies while in the comfort of being with their families here at home. The fact that they are earning without having to be relocated means their expenses are still within their means, provided they are financially wise.
Prevention is better than cure
The truth remains that despite the attractive new gadgets and sneakers seen online, many Filipinos are now becoming more and more financially wise. We have seen more young professionals considering learning how to invest in stocks, buy a condo or carefully consider getting a second-hand car versus a brand new car. Some are even willing to not ever buy a car and simply make the most of the now-popular ride-sharing platforms like Uber and Grab.
What's good about this is, even in the BPO, financial education is being given to help their employees think smart and buy smart whatever the time of year. And if you're looking at spending to buy presents for all of your loved ones, the best time to start buying them is actually middle of the year and start collecting from there until yearend.
Source: business.inquirer.net | rappler.com | manilatimes.net