Submitted by

LISA of Myfinan...

on Mon, 10/17/2016 - 10:59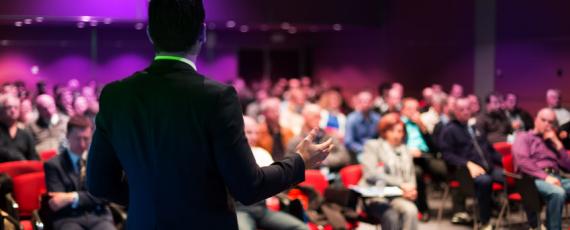 They spread across social media like mushroom. Seminars that offer 'free lunch' with the promise of an upscale growth in your business regardless of what type of business you're in, regardless of what you are selling.
While a minimal fee of at least Php 1,000 in exchange of expert advice and an attractive plating of a hearty meal, you are told that you will walk out of the seminar room with a glint in your eyes as the promise of an abundant future awaits you.
However, before you go out of your way and sign up to be awed by a convincing salesperson delivering a powerful sales talk, here are things you need to consider if going to a seminar a necessary investment for you to jumpstart your business.
Understand who they target
Unbelievable as it may sound, but most financial seminars actually target either young professionals who are fresh from college or those who are approaching their senior years. The two extreme ends of the age bracket in the business world are both highly-impressionable if a yuppie or a new retiree is venturing into a new business opportunity. If you are not too much of a young professional and are looking at moving out of the employment field to start your own entrepreneurial adventure, the lack of experience and knowledge in your targeted business may easily get you the label of a green horn – just like a yuppie.
The seniors on the other hand, tend to have funds from their retirement plan and tend to be open to new experiences as they approach their retiring years. Suffice to say, a new venture may fill in the empty nest and may kickstart their day-to-day activities if persuaded to join in a new business venture. Aging investors may not be as sharp as they were during their late 20's or mid 30's.
Your situation is also an area of opportunity for those looking at recruiting you in their business. If you are a fresh grad, unemployed and when you feel that you have already reached the ends of your hope, a promise of an abundant life and wealth while watching your money grow like a mango tree could be the most promising break you've been desperately looking for. Remember that sales people (although not all) have a sharp eye in determining areas of opportunity.
Know the formula
Most financial seminars are actually streamlined to boil down to one objective – to make a sale. In as little as four hours, the facilitator could start off with fierce hep-hep-hoorahs that will climax to a particular service or product that they provide, that is to be concluded by an elegant plating of a 'free lunch'. What initially appeared as merely an informative or educational seminar could actually be an orchestrated opportunity for you to sit down and wait to be sold something.
Beware of the details
When the venue is as impressive as the speaker's neatly pleated corporate suit, know that they were all designed to impress you. They come with the package of having you believe that they were once like you and because of this business method, they made a clean break. Bear in mind that the seminar may not be specifically designed to fit your particular business need, your circumstances and which direction you would like to take your business venture.
Making a sale is all about creating a need
Financial seminars are often presented as a no-sale, educational and informative presentation and sharing of expertise.
Nothing could be further from the truth. If you would pay close attention to the development of the talk, notice the sponsors whose banners are usually set at the bottom of the programme or at the registration desk upfront, chances are, a sales pitch should not come as a surprise.
Listen to the cues 'limited offer', 'one-time offer' and for 'reserved seats only'. These phrases make you believe that you are one of the few lucky ones who are blessed to be given such an opportunity for your investment.
Before considering jumping the bandwagon, think if your type of business needs a seminar derived from worn-out templates presented powerpoint slides. Do your homework carefully. It might even be best for your initial investment to get a professional consultant for a one-on-one coaching than be swept away among the crowd who got attracted over a free lunch.