Submitted by

LISA of Myfinan...

on Thu, 11/10/2016 - 16:41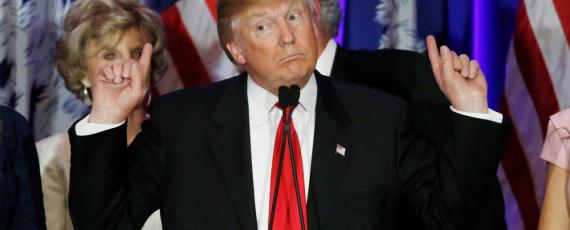 The recently concluded US elections had drawn a major flak among US Citizens, as the 45th US President is concluded to be republican, Donald Trump, winning 58% of the white vote including 63% of white men.
It is known that Trump had won a lot of unfavorable audience during the campaign trail, with many belonging to Mexican citizens whose collective sentiments went against Trump's trashy talk on illegal immigrants more known as illegal 'cholos' crossing the Mexican border.
"We will build a wall… no one builds walls better than I do, let me tell ya that." Trump is quoted as saying in one of his much-booed speeches.
The Trump Dump
Trump is not one to mince words. Ironically, his demeanor does not represent the manners of a respected businessman, moreso a statesman. "Grab 'em by the p*&y" he once said, in a covert recording that was obtained by Washington Post. This, among other uncalled for comments that demean women calls for a maddening outcry from the crowd, who could not believe such misogynistic, white supremacist remarks has just landed himself the most powerful seat in America. The sad reality is that once the cameras are up, he starts to claim that he is quite a gentleman.
Tramping on his trail
Many were upset, so upset that they were moved to tears as Hillary Clinton concedes to Trump as soon as the official announcement was given. Why not? Although Clinton may have her hits and misses with the leaked email and the sloppy moral stance on pro-choice where late-term abortion is concerned, she is quite the more politically-sound and experienced candidate.
She studied politics, was a former first lady and had built her career in and around the arena. Peering through her kaleidoscope is far more colorful than Trump's rose-colored glasses.
Take it outside
Within the first 24 hours, thousands have flocked the streets with raging fists up in the air, effigies and signboards returning the same abrasive statements back to whence it came. Literally, thousands have marched the streets, from New York to Los Angeles. The crowd chanting in and around 10 cities against the billionaire president/rookie politician despite Clinton making an earlier appeal to observe unity after the official results have been released.
Billionaire bully
Be that as it may, Trump's victory is offering a lot of social anxiety and unrest, as he has made it clear that offshore businesses will be brought back to the United States. He made it clear that immigration will be far more stringent. The reality is, America is still made up of a wide majority of middle, working class citizens who are also, largely immigrants not just from the south border, but all across her coastline.
America Diaz, a factory worker in Madison: "We need a leader to take us through the process of comprehensive, just and humane immigration reform."
Carmen Guerra, a lay health worker in Brownsville, Texas: "The president has to see the border as a bridge, not as a barrier."
Her final say says it all
No one in the history of American politics, has ever made a much more graceful exit better than Clinton. She has proven time and again how she is a woman of power – not the aggressive type – but one that is carefully thought of and painstakingly measured.
One can remember how she was able to gracefully carry through, after and during the scandal that her husband and former president Bill Clinton was involved in with a love affair with Monica Lewinsky, an intern at the White House.
She is displaying the same grace on this political defeat and in her speech, she reminded America that this elections is not just about one person, nor about one election, but about one country. She reminds everyone that the America should remain able to exercise its basic and fundamental rights such as freedom of worship and expression and that the present administration should continue to uphold what the rule of law embodies in its totality.
She also stated that like it or not, Trump will continue to be the president and that the American people should move forward towards a more unified country.
The more that Clinton accepts her humble defeat, the more it became clearer, that she is truly the president that America never had.

source: telegraph.co.uk | thesun.co.uk | equalvoiceforfamilies.org | reuters.com